1. What is your REAL name?
Dennis.
2. Gender?
Male.
3. Where do you live?
Holland.
4. Do you speak decent English?
Yes.
5. How old are you?
I'm 14 years old.
6. What is your main character name?
Feranthus.
7. Name of your alternate character/s?
Balanceless
8. What race and class do you play?
Night Elf, druid.
9. How long have you been playing WoW?
3 years now.
10. What is your role in a raid? Please provide/describe in more than one sentence.
Well I can be a Feral tank, I'm 20k HP in dire Bear form. But I would also suit as a DPS druid with quite high DPS in Cat form, whatever you want me to be.
11. Why would you like to join <League Of Heroes> ?
I think it's a great guild, I've been looking for a good guild quite some time.
12. Why should we recruit you?
I'm active (if I'm not to busy with school) and pretty loyal, I'm also quite helpfull and don't do raids for my own gear but because I want to help my guildmates gear.
13. What do you expect from this guild?
Eehm, raids now and then, helpfull members, some fun events etc.
14. What guilds have you previously been in? Reasons why you leave?
Warlords, Guild collapse. Other one I forgot :X
15. Any other info we should be aware of?
No.
16. Please Link a Screenshot about your Character Panel. (So we can see your gears)
Feranthus:
Balanceless: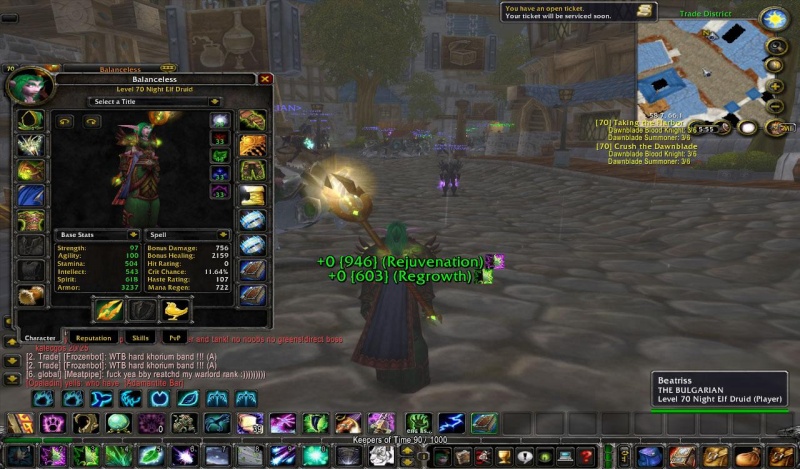 17. What proffesions does your character have? (So we can add them up in your guild note so guildies could benefit of them)
None, but on Balanceless I have Enchanting.
18. SAY "CHEESE" : D.
CHEESE